Shop
Asian Lifestyle Design has become my passion.  To continue to share as much as I can about Asian culture, customs, traditions through "living in harmony with nature" I have added my own shop as well as other affiliate shops that I hope you will enjoy.  Your purchases will really contribute to sustaining this blog and thanks so much for you continuous support!  Arigato gozai masu.
Asian Food Grocer:  Your one stop shop for Asian Groceries and Supplies
Please click on the ad to get to their shop.
J-Life International:  Traditional Japanese items for the home such as tatami, clothing, bedding, futons, kitchen and garden items.  Click the link below!
Click here to Shop J-Life International's entire line of fine Japanese products
Akazuki:  The Japanese Goods Shop
Based in Japan, Akazuki sell beautiful and useful Japanese products.  They ship internationally!  To get to their site please click on the add or link!  Thank you.
 www.akazuki.com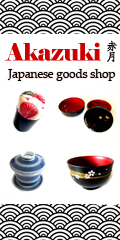 My Shop On RedBubble:  Jenny Nakao Hones

Much of Asian culture is based on symbolism.  In ancient China and Japan, they believed these symbols also represented different forms of energy that resonated with their symbols.  This tradition continues today whereby we often give tokens and gifts to friends and family in hopes to bring them good fortune and positive energy.  My designs incorporate many traditional Asian symbols with a modern twist.  Many will be interested to know the meaning behind the symbols and will appreciate your intentions for them.  They make wonderful gifts!
My Mom's Shop on RedBubble:  Lily Nakao
Lily Nakao is a Japanese Chigiri-e Artist based in Honolulu, Hawaii.